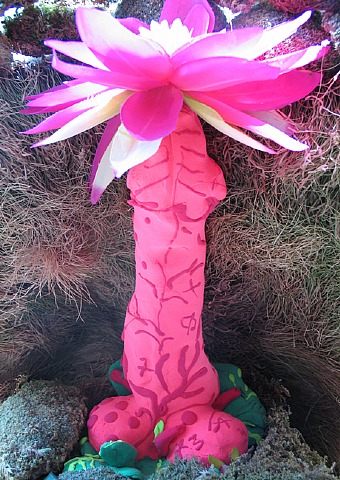 Now to say that I fall in love easily, (especially when I was younger) was true; but now that I'm older, yeah well not so true. Anyone who knows me,especially when it comes to the different types of artists, genres and mediums used by artists will know that I teeter from the deep dark and macabre (think
Alien
who doesn't like
H.R. Giger's
creepiness?) to mystical escapist fairyland (think
Legend
) are my all time favorites. But I think I'm in love; with
Lydia's
work that is!
Lydia Venieri's
show
The Last Conflict
hypnotized and entranced me so, that I thought for a split second I was suffering from a bout of
catatonia
. Who wouldn't want to be shrunken and left to wander and explore Lydia's
Last Conflict
is insane not to. Those wonderful little
Kewpie-like dolls
were left to their defenses; and left to fend for themselves against make believe creatures, situations and a ginormous
phallus
lotus (tons of fun if you ask me). Glass globes were inserted with moss, plastic toys, branches and a multitude of "stuff" too much stuff to list; but it wasn't a
mish mash
it was legitimate things that brought the whole show and theme together. There were giant digital photos (that hung on the walls) of dolls and their giant hollow looking and vacant expressions that surrounded the gallery; the geniusness is that their glass eyes reflect images back to the "viewer". Sounds like tons of fun...tons of fun. See
Last Conflict
at
Stux Gallery
thru June 25th -
Madame J.
Janice Pena
Art Blog