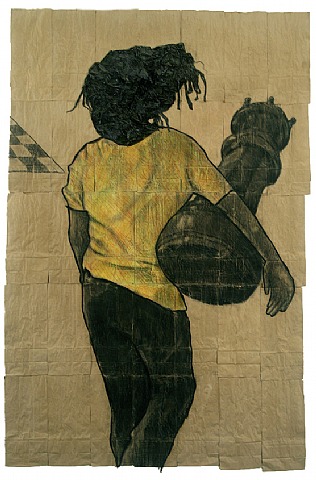 Let's start with
Nathaniel Donnett
's
My Mind's Playing Tricks on Me
that closed on April 30th of this year; this show was a mind blowing experience. Who could be so creative enough and think up a way to use black plastic garbage and brown paper bags as a medium for their work.
Nathaniel
definitely made his point with this show which stuck with me and always will. In Black and Hispanic cultures "the lighter you are, the better you are" therefore the (smarter, good looking and more likely to succeed in life you'll be if your of "lighter skinned complexion"). A quick and cheap solution to the problem is
skin bleaching
by way of over the counter
skin "whitening" creams
and (for those of "color" who have financially succeeded in life and can afford those) expensive visits to the dermatologist and have a permanent solution to your "problems" it can be cleared up with a few sessions at the Docs office; these methods and "solutions" can be a distasteful reminder to people (of color of course) that social standing in your community and caring what other people think of you (and what shade of color you are) was and still is important and won't change. Also
"straightening" or "relaxing"
hair, (as if it's out of control in the first place), needs to be put in check (the hair of course and not society itself); because more times than none "straighter" hair which refracts more light therefore the bounciness and ease "looks better" than a "woolly" thick mane or a dull matte sheen to the hair; and this "dullness" or "kinkiness" may just may tank your possibilites of getting that job you just interviewed for. Sad but true we're slaves to the "brighter is better methodology." I loved Nathaniel's creative genius of the use of the brown paper bags as the skin color of his characters and the black garbage bags; they both have dual use for both hair "texture" and skin color.
Nathanie
l's
"Rorschach's Test"
made from black plastic bags that's some feat; in Nathaniel's "Session 1" I see a frog, "Session 3" I see a woman's pelvis and "Sessions 4" I see a crab.
I LOVED LOVED LOVED
Colin Brown's
latest show (which closed May 21st)
Selva Oscura
that was shown at
Fischbach Gallery
. Hard to imagine that these over sized carbonized nickel on board paintings are just that paintings and not black and white photographs. They're beautiful and the reason why I appreciate NYC and why
"I heart NY".
Que belle! Describes
John Evans
last show (closed May 14th) at
Gallery Henoch
; this show titled
Recent Paintings
, it should really be "I want this botanical garden pool in my back yard." Beautifully serene and tranquil, John's paintings invoke a sense of peace whenever my mind drifts and wanders thinking about "do places like this really exist?
Dorothy Dierks Hourihan's
last show at
Viridian Artists
The Flower Show
manages to express and demonstrate her love of rendering flowers on canvas and all of its gloriousness. I love the flowing movement and
sinuosness
that is delicately depicted in her paintings; there's a little
Ana Tzarev
and van Gogh energy in her flowers.
Tamara Kostianovsky's
latest show at
Slag Gallery
called
Stains
was a two (wo)man show with fellow artist
Ingrid Blixt
that (closed June 13th). Tamara's talent is a creative force to be reckoned with; she is known to use (in order to be resourceful and save on art supplies amd materials) her own clothing, batting, embroidery floss, armature wire, foam and her own hair. I myself (
a pescetarian
) can't stand the sight or smell of
beef, pork, goat
and chicken found Tamara's show all too real, which is a compliment. Tamara's stuffed sides of beef and cattle is remarkably impressive. Tamara was born in Israel but was raised in Argentina, a country whose staple diet includes beef sometimes morning, noon and night. Her stuffed sculptures (
with all of its realness
) reminded me again why I don't eat meat! Watch the movie
Death on a Factory Farm
you'll think twice before you eat
Babe
and/or
Elsie the Cow
!
Anybody who can dare to argue and say that
Karen Gunderson'
s
Constellations, Moons, and Water
exhibit (that closed June 11th) at
Clamp Art
was not a superlative and monumentally creative success is certifiably
insane
and/or lunacy from the ill effects of a
full moon
. Karen's works which are done on either oil on linen, panel or board completely fooled me; there's such a strong misconception that her work is etched on metal. Her creative genius in rendering her works that have produced a luminuos and metallic appearance to the natural satellites and oceanic waves is a marvel. Her paintings are so impressive I was totally seduced by their visual magnetic fields and was completely entranced. Her large works were mesmerizingly dark and lovingly treacherous. See the movies
Moon
starring
Sam Rockwell
or
Solaris
starring
George Clooney
.
Frances Siegel's
Mining
at
Prince Street Gallery
closes June 18th, delicate and dainty reminders of days past and lost love. These beautiful examples of assemblage are marvels and wonders that keep their integrity.
So who doesn't love the typical
garden variety
alcoholic and sadomasochistic sexual deviant who happened to be one of the greatest artist of the 20th century?
Francis Bacon
was a deviant genius who unfortunately could never find a true stable lover (that was because he himself was unstable and had a slew of inner demons to reckon with and slay which he never did.) He died in 1992 but I was able to catch The Met's retrospective
Francis Bacon: A Centenary Retrospective
back in 2009. I loved it and felt totally at home; his screaming mouths and contorted figures (which are hard to make sense of) left my confused mind begging for more especially, when I got to the last work of art that hung on the museums wall.
Helly Nahmad's
show
Soutine/Bacon
filled that inner void I had henceforth after seeing
A Centenary Retro
. -
Madame J.
Janice Pena
Art Blog